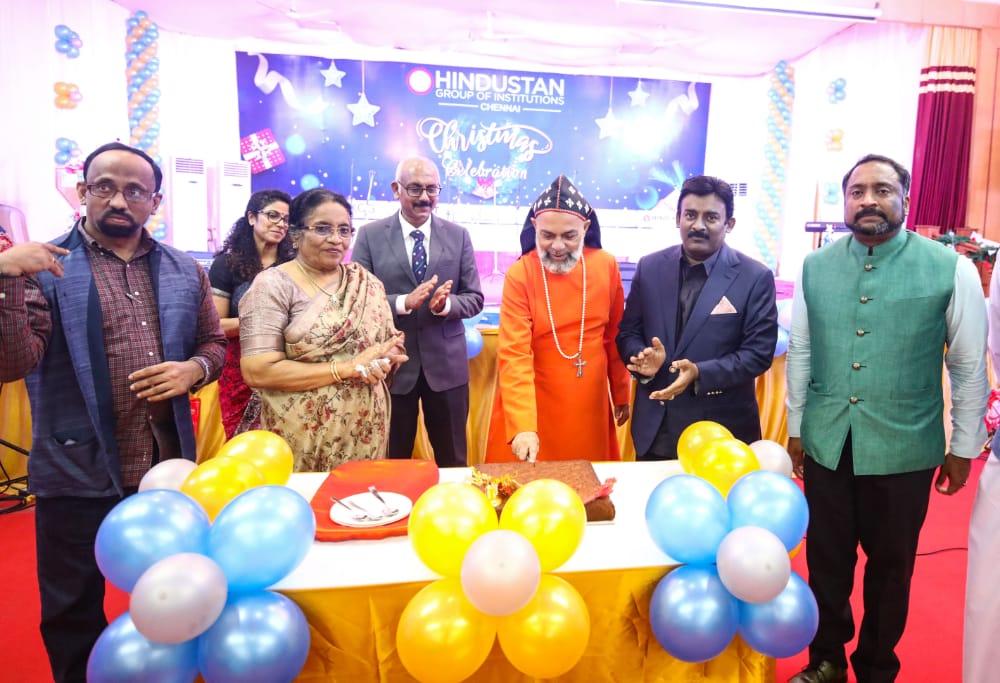 CHIRSTMAS CELEBRATIONS 2022
The Christmas Celebration of Hindustan Group of Institutions was held on 15th December 2022 at HITS Bay Range Campus, Padur, Chennai. The event was presided over by Dr. Elizabeth Verghese, Founder- Chancellor, Hindustan Group of Institutions. The Chief Guest for the event, Rt. Rev. Dr. Mathews Mar Makarios Episcopa, Bishop of Chennai – Bangalore Diocese, Mar Thomas Church and the Guest of Honour, Dr. Joseph Thomas, Vice President and Business Head-Americas at Wipro Infrastructure Engineering graced the event.
Dr. Anand Jacob Verghese, Chairman, Hindustan Group of Institutions welcomed the gathering. Hindustan College, Mysuru presented a drama on Christmas theme and entertained the audience with their dance performance. The Choirs from the Hindustan Institute of Technology and Science, K. C. G College of Technology, Hindustan College of Arts and Science, Orient Flights Aviation Academy, Mysuru, Hindustan International School and Hindustan Institute of Engineering and Technology presented their carol rendition. The winners of the Carol the King Competition rendered special performances during the celebration. Prizes were distributed to the winners of Carol the King, Biblia and Advent Choral Contest. The vote of thanks was proposed by Dr. P. Deiva Sundari, Principal, KCG College of Technology. The celebration ended with the benediction rendered by Rt. Rev. Dr. Mathews Mar Makarios Episcopa.