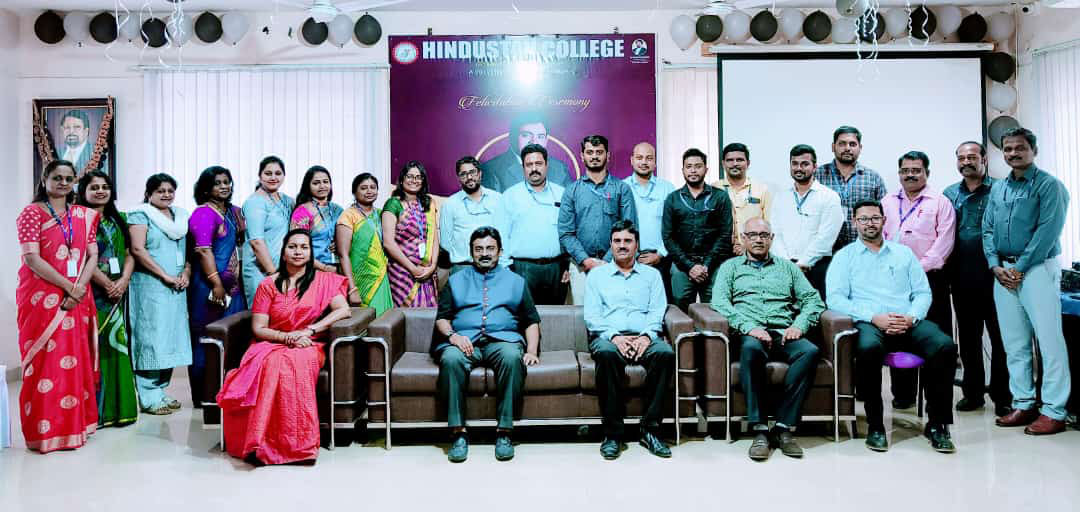 FELICITATION CEREMONY
A felicitation ceremony was organized by Hindustan College, Mysuru on 2nd February 2023, to honour Dr. Anand Jacob Verghese, Chairman, Hindustan Group of Institutions and Chancellor, Hindustan Institute of Technology & Science, Chennai.
Dr Anand Jacob Verghese is an eminent figure in education. Having made significant contributions to the field, he has led the Hindustan Group of Institutions to become a renowned educational establishment, offering an extensive range of courses in Engineering, Management, and other disciplines. He has also played a crucial role in promoting Research and Innovation in Education and has been recognized with numerous awards and accolades. Dr. Anand Jacob Verghese presides as the Chairman of the founding society of the Hindustan Group of Institutions, which administers a consortium of esteemed Higher Education Institutions, including the Hindustan Institute of Engineering Technology, Hindustan Institute of Technology & Science, Hindustan College of Arts & Science, KCG College of Technology, Hindustan International Schools, Orient Flights Aviation Academy and Hindustan College, Mysuru. The Group boasts a substantial community of over 18,000 students and 3,000 faculty and staff, alongside an extensive alumni network exceeding 125,000 members worldwide.
Dr. Anand Jacob Verghese has actively contributed to the advancement of Aerospace Engineering, holding the position of Vice-President at a National Level in AeSI. His compassionate nature motivated him to make a positive impact on the underprivileged community through Y's Men International, a service organization headquartered in Geneva and associated with the YMCA. It is noteworthy that he has been holding the distinguished position of Area President for India and International Council Member in this organization. He has been the recipient of several accolades from esteemed organizations, including the MGR Ratna Award, IET Rathna Award, Aviation Edupreneur Award, and 21st Century Millennium Award for Education, to mention a few. Furthermore, he is proficient in crafting and engaging informative articles on Higher Education, Soft Skills, and Life Skills for School and College students in social media. Additionally, he shares his expertise and technical knowledge to benefit educators, providing them with pedagogical inputs that align with technological advancements.
The felicitation ceremony, a fitting tribute to his achievements in education, commenced with a prayer by Rev. Shaiju P John, followed by an invocation song by Ms. Rini and her team. Mr. Abel Mathew Prasad, the Special Officer, welcomed the attendees, and Dr. C. J. Priya, Principal of Hindustan College, highlighted Dr. Anand Jacob Verghese's accomplishments and contributions to education. Dr. Anand Jacob Verghese expressed his appreciation in a speech, thanking the attendees for their support and encouragement. Mr. M. K. Rangaswamy felicitated the Chairman, acknowledging his exceptional contribution to education and visionary leadership. The ceremony also included the prize distribution for the football tournament hosted by Hindustan College and a cultural program, featuring a dance performance enjoyed by the audience, followed by a vote of thanks delivered by Asst. Professor Ajay M. The ceremony was attended by faculty members, staff, students, and dignitaries from various fields, and Dr. Harshavardhana, Asst. Professor, served as the MC, keeping the audience engaged throughout the ceremony. The felicitation ceremony was a memorable and inspiring event, celebrating Dr. Anand Jacob Verghese's achievements and contributions to the field of education while showcasing the Hindustan Group of Institutions' commitment to excellence and innovation.