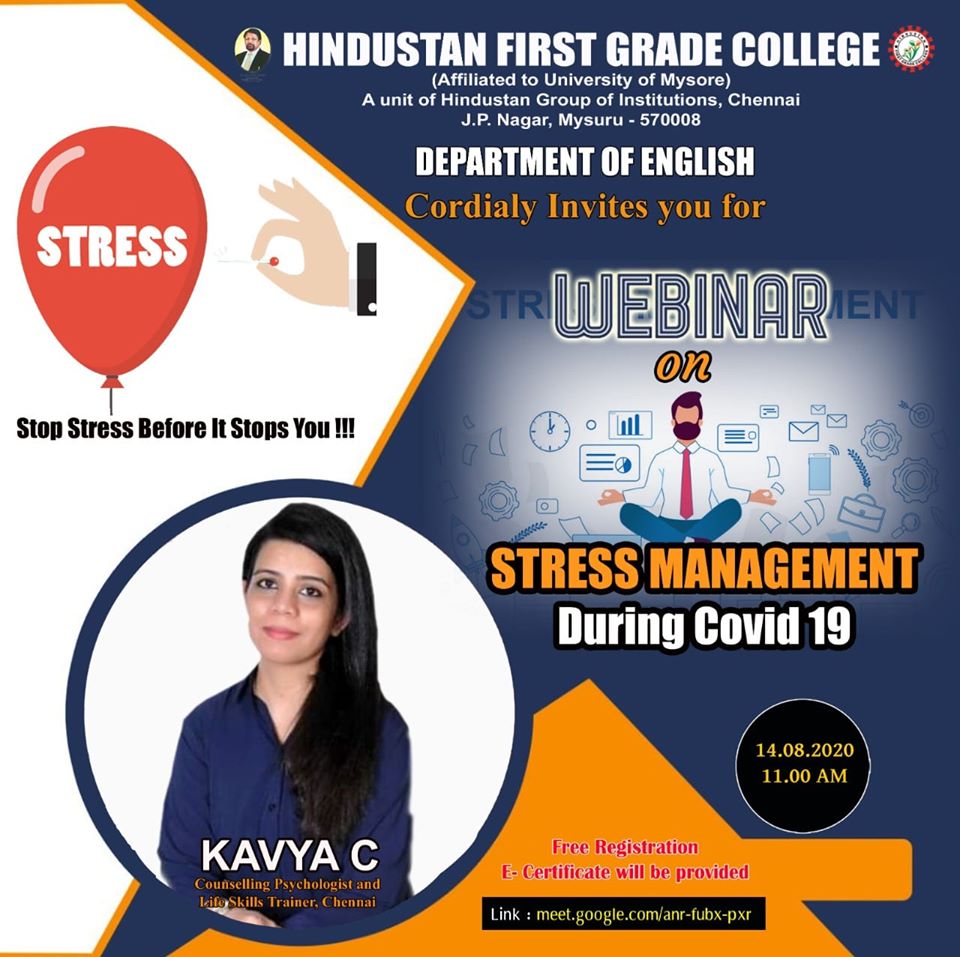 WEBINAR ON STRESS MANAGEMENT DURING COVID 19 "STOP STRESS BEFORE IT STOPS YOU"
A webinar on Stress Management during Covid 19 – "Stop Stress Before It Stops You" was organised by the Department of English on 14th August 2020. The session was open for all academicians, faculty, research scholars and students of all streams across India. 137 members from Karnataka, Tamil Nadu, Maharastra, Odisha, Uttar Pradesh and Jharkhand had registered for the webinar.
Ms.Kavya, Psychologist and Freelance Student Counsellor, Chennai was invited as the resource person for the Webinar. The Resource person who is working at TISS ( Tata Institute of social Services, helps students to improve their life skills like self-awareness, procrastination, study skills, goal setting, stress management, communication skills etc. She also provides online counselling services through Your Ears and Heart organisation.
The webinar was hosted on Google meet Platform and a Whats App group was created for the registered candidates. All the instructions were given to the candidates through the whats app group. The session started at 11.00 AM by a welcome note and the introduction to the resource person by Ms. Nagasri.S, Assistant Professor, Dept of English. Dr. C. J. Priya, Principal addressed the participants and highlighted the objective of the webinar and conveyed the best wishes. Ms. Kavya, in the webinar, spoke about the importance of managing the stress during the pandemic covid 19. She educated the participants about the wrong steps taken by the people in managing the stress. She also suggested them the right procedures/ steps to be taken to manage stress as it is important to maintain strong mental health along with the physical fitness. A therapy of 10 minutes related to relax during stress was held to all the participants. The last 15minutes of the session was reserved for the question – answer/ discussion.