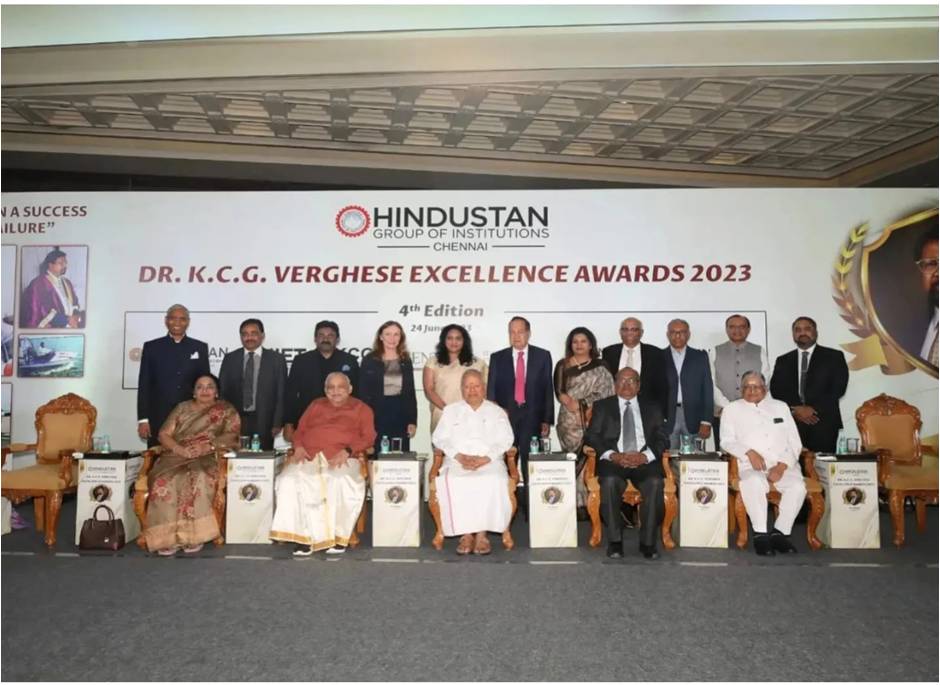 DR K C G VERGHESE EXCELLENCE AWARDS 2023
The 4th edition of the Dr K C G Verghese Excellence Awards 2023 was held on 24th June 2023 at ITC Grand Chola, Chennai. The Excellence Awards was instituted in the loving memory of our Founder Chairman, Late Dr. K C G Verghese, to honour and celebrate the achievements of eminent personalities across the Globe. In this 4th edition, 32 reputed personalities were honoured for their accomplishments and outstanding service to the society.
The event was presided by Chairman HGI, Dr. Anand Jacob Verghese in presence of other dignitaries, Dr. Elizabeth Verghese, Founder Chairperson, Mr. Ashok Verghese, Vice President, HGI, Dr. Susan Verghese, Vice President, HGI, Dr. Annie Jacob, Director, K C G College of Technology and Dr. Aby Sam, Executive Director, HGI. Mr. N Ram, a prominent Indian Journalist and Director of the Hindu Group Publishing Private Limited was the Chief Guest, Mr. T S Tirumurti, IFS (Retired)-Former Indian Ambassador United Nations and Ms. Michaela Kuchier, Consul General-Federal Republic of Germany were the guests of honour.
The awards were bestowed in recognition of the achievements and exceptional accomplishments of the dignitaries in their respective fields, across 8 categories. This year, stalwarts across different fields were awarded in the categories of Life Time Achievement, Academic Excellence, Research Excellence, Corporate Excellence, Community Development, Youth Icon, Sports Excellence and Outstanding Alumni. The K C G Verghese Excellence Award is an effort from the Institution end to identify and award stalwarts for their past achievements and also inspire them to achieve more in the future. Hindustan Group of Institutions shall continue this legacy in the future and work towards encouraging more valuable contributors to India's development as a world leader.