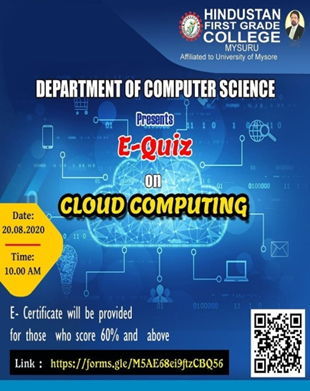 NATIONAL LEVEL E – QUIZ ON "CLOUD COMPUTING"
A National Level e – Quiz on "Cloud Computing" was conducted by the Department of Computer Science on 20th of August 2020. The quiz was entirely on basics of cloud computing. E Certificates were given to participants who secured minimum 60% in the quiz.
208 participants from various parts of India, participated in the quiz on 20th August 2020 (from 10.00 AM). The participants have given a positive feedback. They have appreciated and congratulated for the initiative of this quiz and have requested to conduct more quiz based on technology.