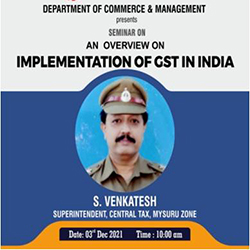 SEMINAR ON AN OVERVIEW ON IMPLEMENTATION OF GST IN INDIA
The Department of Commerce & Management organized a seminar titled "An Overview on Implementation of GST in India" on 3rd December 2021. Mr. S. Venkatesh, Superintendent of Central Tax, Mysuru zone was invited as the Resource Person.
The speaker highlighted on the Input tax credit, Registration process & the benefits of GST and how it has contributed for the generation of revenue in the country. He simplified the Core concept of CGST, SGST & IGST by quoting many examples & connected the concepts to students & he explained clearly how it affects their routine life. He enlightened about the penalty levied for tax evaders in the country, fine collected & quoted few examples how the department tackles the tax evaders with help of a huge data base system which is working in the country.
The students were also informed about the career opportunities for tax practitioners, auditors & chartered accountants in India & the job openings in central Government in the area of taxation
The Programme Convener, Ms. Bhagyalakshmi, Assistant Professor, Department of Commerce & Management concluded the session with a thanking note.